CLIENTS DESERVE YOUR BEST. YOU DESERVE OURS.
Maya is committed to bringing quality insurance products to our New York customers while providing the best possible service, financial security, and protection through our trusted broker network. We provide a complete portfolio of specialty property and casualty products, loss control capabilities, as well as claims and audit services that are required to serve the needs of our customers in the industry segments we underwrite. Our workplace environment promotes growth and opportunities for employees to serve our customer's.
Purchased Merrion Insurance Company Licensed & filings
2005
Purchased Merrion Insurance Company Licensed & filings
2006
Opened the office Long Island City, NY with 3 employees and wrote $0 to $4.3 Mil premium.
2007
Upgraded the claims, policy, and accounting systems and developed, designed, and implemented a document management system to go completely paperless
2008
$10 Mil Premium reached
2010
$15 Mil Premium reached
2013
Started writing commercial auto business and designed, developed, and implemented our first inhouse rating system
2018
Developed in–house policy, Avante and claims system, Garde and Maya Mobile App
Updated our logos
2019
Implemented Avante, quoting and policy issuance system & Garde claims system
New Jersey office founded
Developed & filed the Upstate livery & EMNT rates
2020
Expanded our focus to write business in all of NY State including livery, NEMT and commercial auto
2021
Transitioned all new and renewal business to Avante and claims to Garde
Filed an update for commercial and Livery Forms
2022 
Launched our new website, social media, Mobile App and Auto Payment
Over $20 Mil premium written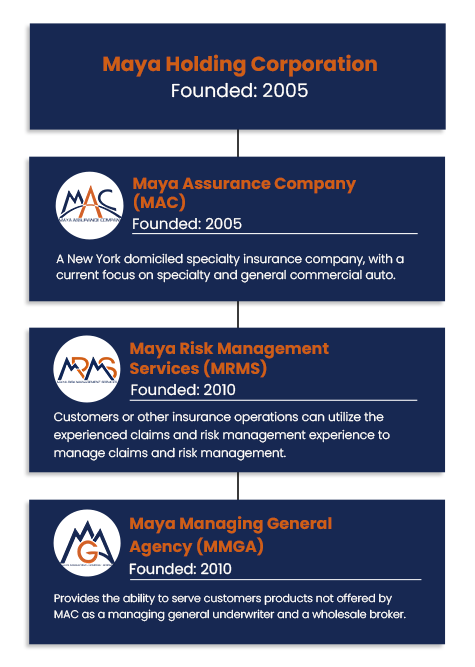 Maya Holding Corporation
Founded: in 2005
The holding company of Maya Assurance Company, Maya Risk Management Services and Maya Managing General Agency.
Maya Assurance Company (MAC)
Founded: 2005
A New York domiciled specialty insurance company, with a current focus on specialty and general commercial auto.
Maya Risk Management Services (MRMS)
Founded: 2010
Customers or other insurance operations can utilize the experienced claims and risk management experience to manage claims and risk management.
Maya Managing General Agency (MMGA)
Founded: 2013
Provides the ability to serve customers products not offered by MAC as a managing general underwriter and a wholesale broker.
Ram Singh – Chief Executive Officer
Maya Holding Corporation was established by Mr. Ram Singh in 2005. Before Maya, in 1993, he founded Asian Insurance Brokerage, Inc., a company that specializes in providing business, commercial, and limousine liability insurance programs. The Asian Insurance Brokerage had direct partnerships with numerous insurance companies and served as the exclusive agent for Lloyds of London Program, offering limousine liability coverage. Prior to establishing Asian Insurance, Mr. Singh held the position of senior staff engineer at Siemens Stromberg Carlson in Boca Raton, FL. Furthermore, he spent 15 years working at Bell Labs as a member of the technical staff before joining Siemens.

Mr. Singh obtained a dual master's degree in industrial engineering and Operations Research from The University of Michigan, Ann Arbor. He also holds an M.A. and M.S. in mathematics from Western Michigan University. Moreover, Mr. Singh completed his M.Sc. in Mathematics from Agra University, Agra, India, and holds a B.S. in Mathematics, Physics, and Chemistry from Punjab University, India. He has contributed to the information technology field by publishing more than 50 papers at national and international levels.
KJ Singh – President & Chief Operating Officer
Drawing upon his vast expertise in computer systems and programming, K.J. Singh decided to return to New York and collaborate with his father in establishing Maya Assurance Company in 2005. K.J. has been instrumental in driving the company's growth by venturing beyond the NYC Livery market and diversifying its portfolio with the inclusion of new business segments. He has also taken the lead in developing and implementing proprietary software systems for underwriting, claims management, and accounting within the organization. K.J.'s proficiency has played a crucial role in shaping the company's success and expansion.
John Maloney, CPA – Chief Financial Officer
In 2010, Mr. Maloney became part of Maya as the Chief Financial Officer, assuming responsibility for the company's accounting and financial reporting. Prior to joining Maya, he held the position of Chief Financial Officer at First Commercial Holdings Group. In this role, he was accountable for preparing individual, consolidated, GAAP, and Statutory Financial Statements and Yellow Books. Before his tenure at First Commercial Holdings Group, Mr. Maloney served as the Chief Financial Officer for U.S. Agents Holding Corporation. He has also gained experience working at Lancer Insurance Company and Security Pacific.
Mr. Maloney obtained a B.S. in Accounting from Sienna College and holds an MBA from Hofstra University. Additionally, he is a licensed Certified Public Accountant (CPA) in the state of New York. Within Maya, Mr. Maloney plays a critical role in overseeing financial operations and ensuring compliance with regulatory requirements.
Rawatee Dhanwa – Office Manager
Rawatee Dhanwa joined the company in 2006 and possesses comprehensive expertise in various areas of Claims, including PD & PD Arbitration, BI, PIP, PIP/LT Subrogation, and UM. She is responsible for overseeing vendor billing and generating monthly reports for management. In addition to her role in Claims, Rawatee plays a crucial part as the Office Manager, efficiently managing and organizing operational events and supervising staff members. Her multifaceted skills and expertise contribute to the smooth functioning of the company's operations.
Ram Singh – Chief Executive Officer
In 2003 Mr. Singh saw that livery drivers were struggling to obtain auto insurance as there were only two companies operating.  He founded Asian Insurance Agency to act as a broker but could not find an alternative market. As a result, he subsequently founded Maya Assurance Company in 2005 which has now been operating for over 17 years serving the community.
KJ Singh – President & Chief Operating Officer
With extensive computer system and programming knowledge, he chooses to move back to New York and join his father to build Maya Assurance Company in 2005. KJ has been the professional driving force behind the expansion of the company, outside the NYC Livery market, and adding additional classes of business. He has also led the creation, building, and implementation of the in-house underwriting, claims, and accounting software systems.
Lizbeth Alonso - Accounting Supervisor
Lizbeth Alonso serves as the Accounting Supervisor, responsible for managing the accounting department and overseeing all operational and staff requirements, including human resource reporting. With her extensive education and professional experience, she adeptly fulfills her role and brings thirteen years of expertise in collections and accounts receivable management. Lizbeth's proficiency in these areas contributes to the smooth functioning of the accounting department and ensures effective financial management within the organization.
Syed Ali Shamsi, CPCU, ARM, AINS, P&C Broker – Senior Underwriter
CPCU, ARM, AINS, P&C Broker
Syed Ali Shamsi, a highly experienced professional in the insurance industry, joined Maya Assurance, bringing with him three decades of expertise in commercial and personal lines. With a strong educational background in insurance and risk management, including qualifications such as CPCU, ARM, AINS, and P&C Broker, Syed possesses a comprehensive understanding of underwriting, risk assessment, and insurance operations across multiple lines of business. He has a commendable track record in underwriting, sales, and product management/development, having served various insurance companies throughout his career. Syed's wealth of knowledge and proven skills make him an invaluable asset as a Senior Underwriter at Maya Assurance.
Areefa Rasheed – Senior Underwriter
Joined Maya in 2006 in the Underwriting Department. Professional knowledge in Commercial Auto and TLC Livery underwriting for over 16 years. Experience includes data analysis and reporting, premium calculations, and corresponding to inquiries from DMV and TLC departments Provides excellent customer service to brokers and collaborates with colleagues.
Imran Issani – Senior Underwriter
Imran Issani is a Senior Underwriter with 10 years of experience at MAYA Assurance Company. He specializes in underwriting TLC Livery, Metro NY, NY upstate business, and Commercial Auto business. Imran is highly experienced and knowledgeable in Risk Management and Fraud Investigation. He is dedicated to providing professional service to brokers/clients and actively collaborates with colleagues and brokers to offer the best solutions to insureds.
Sangpo Tashi – Assistant Underwriter
Sangpo Tashi is an Assistant Underwriter who relocated to the USA from Nepal in 2011 and made an immediate impression on Maya Assurance Company. With expertise in DMV inquiries and meticulous review of insured driving records, Sangpo is entrusted with the responsibility of issuing new and renewal policies. He actively collaborates with management on system improvements and reporting processes.
UNDERWRITING & ACCOUNTING
Martin Ridgers, CPCU – Director of Underwriting
Professional Insurance Executive with over 40 years' experience leading, listening too, motivating, to direct the Maya underwriting team and assist in building the Maya systems. Accomplishments include running an MGU writing over $100 million for over 25 years, the 2019 NYC CPCU Chapter, created the North American Contingency Association (NACA) and he continues active involvement with CPCU, diversity and creating educational material.
mridgers@mayaassurance.com
718-937-2010 Ext. 220
Imran Issani – Senior Underwriter
10 years of experience with MAYA Assurance Company, underwriting TLC Livery, Metro NY, NY upstate business, and Commercial Auto business. Experienced and knowledgeable in Risk Management and Fraud Investigation. Provide professional service to brokers/clients and collaborate with colleagues and brokers to provide the best solutions to insureds.
Newbusiness@mayaassurance.com
718-937-2010 Ext. 254
Areefa Rasheed – Senior Underwriter
Started at Maya in 2006 in the underwriting department. Professional commercial auto and TLC/Livery underwriting experience. Experience includes data review and organization to run reports.
Newbusiness@mayaassurance.com
718-937-2010 Ext. 112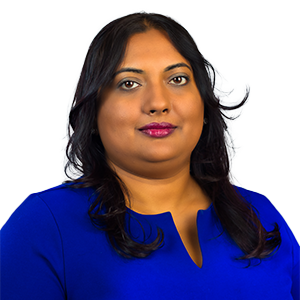 Sangpo Tashi – Assistant Underwriter
Moved to the USA in 2011 from Nepal and impressed Maya enabling him to start with them immediately. He reviews documents and research data basis including the DMV to underwrite the risks before quoting. Sangpo is entrusted to issue new and renewal policies and works with management on the systems and reporting.
Newbusiness@mayaassurance.com
718-937-2010 Ext. 232
Lizbeth Alonso – Accounting Supervisor
As the manager of the accounting department, she oversees all operational and staff needs, including human resource reporting. She is highly educated and experienced to operate professionally in her role and has thirteen years of experience in collections and accounts receivable management.
lalonso@mayaassurance.com
718-937-2010 Ext. 110